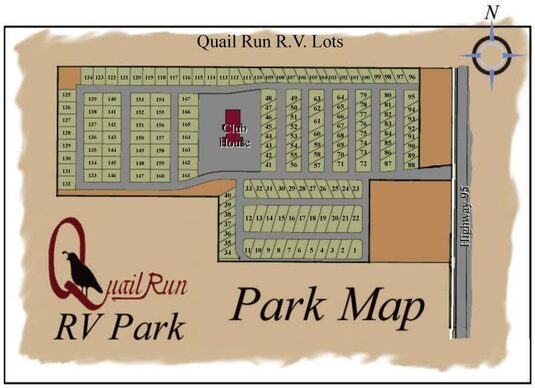 At Quail Run RV Park we know that you want to be refreshed and relaxed. In order to do that, you need a RV park that provides a place to feel rejuvenated.
Are you a Overnighter, Extended Traveler or Full Timer?
We know you are looking for a home away from home and a RV park that is a fun place to be.
Whether you stay with us one night, or for an extended time, the problem is, your tired at the end of the day which makes you feel exhausted and frustrated.  You don't want you to be worried about cost or being unpleasant.  We believe you deserve an convenient and comfortable place to stay, without it costing you an arm and a leg.
We understand that after a long day of driving, or just out for the day, you want a place to refresh which is why we are:
Good Sam approved

We have large, level sites.

Clean restrooms and laundry facilities.

A Clubhouse with lots of fun activities.

Easy in and out for off roaders.

And so much more.
It's a place where you can meet new friends and feel like family. We enjoy your furry friends. So bring them along.
Here's how you do it - Explore our park, click on "Contact Us" and fill in the information or Call Us 928-927-8810.
Meanwhile, see the different attractions you can visit while you stay with us.
So, you can stop and stay in an unfriendly park with hard to get into spaces or worry where your home away from home will be. Or instead, stay at a clean, organized park with large sites and a very friendly staff ready to serve you.